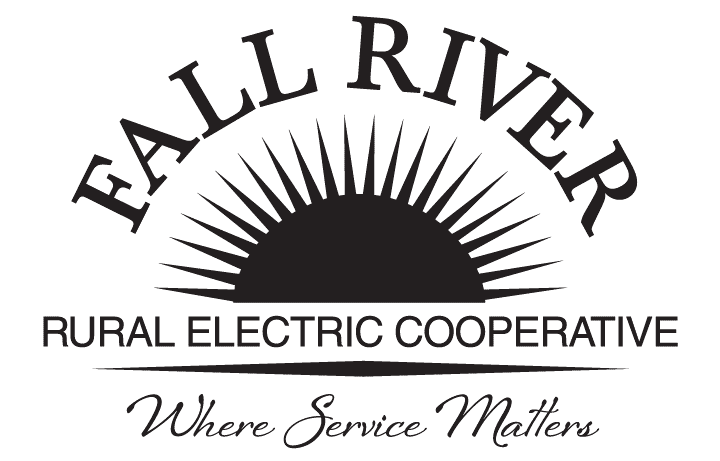 Fall River Rural Electric is committed to protecting the natural beauties that we enjoy here in Idaho, Montana, and Wyoming.  Preserving this beauty for future generations.  Over the past several years we have made significant progress in our efforts to improve our operational efficiencies and reduce our impact on the surrounding areas.  The following is a summary of some of the changes that we implemented in an effort to reduce Fall River's environmental impact and work towards balanced sustainability.
Recycle
Provide plastic and aluminum recycling receptacles at all office locations for employees

All wastepaper is collected, shredded, and recycled at a cost of $4,620 per year.

Provide recycling receptacles for used CFL and florescent light bulbs at each office location for Fall River's needs and makes that service available to all Fall River members at no cost

Recycle used or obsolete computer equipment – including monitors, towers, and print and toner cartridges

Cardboard is collected and recycled

Fall River is a participant in the RAD recycling program in Teton Valley

Water bottle filling station are available on the water fountains at each office
Reduce
Fall River's energy purchases are made up of 95% carbon free generation with 84% of the power purchased coming from clean-carbon free renewable hydro generation.

The Cooperative owns and operates three "Low Impact" hydroelectric projects – Island Park, Buffalo, and Chester. In addition, the Cooperative owns and operates another small hydroelectric facility in Felt.

Invested $458,772 for fish screens on the Cross Cut and Last Chance irrigation canals at the Chester hydro facility to return fish to the Henrys Fork.  

Changed construction practices to help minimize animal fatalities from contact with electrical facilities.

Changed our construction practices to spread out lines to avoid avian fatalities

Covered up lines with animal guard to reduce animal and avian contact

Install bird diverters to reduce swan and other waterfowl electrical line contact.

Buried lines for swan collision remediation with donations and in partnership with member donations.

Replaced transformers and oil in station transformers containing PCB to ensure oil meets standards set out for PCB contaminants

Have replaced oil in transformers near bodies of water to (FR3 a natural ester-based biodegradable vegetable oil) to reduce the risk of petroleum-based oil contaminations in waterways in most areas.

Repurpose/recycle transformers, meters, reclosers, regulators and other usable equipment

95% + of all electrical poles retired from Fall River facilities are reused or repurposed as fence posts, pole barn structures, and other uses.

All retired overhead wire and guy wire are recycled

Material from retired electric facilities is cleaned, maintained, and reused if possible

Unusable metal/steel components are recycled

Maintain a modern efficient vehicle fleet
Reuse
Encourage electronic communications as much as possible with members and board directors

Board packets are sent electronically and accessed using computers or iPads, a move away from hard copy board packets of around 200-250 pages per month per board member and staff, a savings of over 432,000 sheets of paper annually.

Members can opt into electronic bills/statements. Currently 3,594 members receive their bills electronically, 43,128 annually.

Fall River also encourages members to pay bills electronically and currently the number of paperless payments (Credit Card, E-check, Check Free, and RPPS) is 11,118 payments per month or approximately 133,000 electronic payments are made to Fall River annually.

Vendors are encouraged to submit bills and receive payments electronically. Currently, Fall River has 76 of our vendors receiving payment electronically.

Employees can choose receiving paychecks electronically or by paper check and as of today all employees are being paid electronically

All Fall River staff also receive their payment stubs electronically as well.

Fall River is in the process of converting paper files to digital to reduce storage requirements

The Cooperative is also working to create an all-electronic transition for the ordering, purchasing, receiving and payment of stock inventory items with our largest material supplier  

Provide members with access to account information and payment portals through Fall River's website and smart phone applications for both Electric and Propane operations

Transitioned from desktop computers to a server with virtual access points reducing the number of desktop computers and mainframe servers

Fall River offices are stocked with plates, utensils, cups, and glasses which are washed and reused.
Conservation
Fall River started its energy conservation efforts in 1984 and has consecutively operated a conservation program every year since, encouraging members to use less energy and conserve kilowatt hours

Since 2008 Fall River has paid out $3.15 M for conservation measures resulting in reduction of 13,226,092 kWh. In 2020 alone Fall River paid out $278,331.31 saving 923,501 kWh. 

Conservation programs offer incentives for members who choose Energy Star appliances, LED light bulbs, proper insulation, energy efficient windows, insulate water heaters, perform weatherization measures, improve irrigation energy use, and other custom projects which result in documented energy savings

Incentives are offered for all types of services including: Residential, Small or Larger Commercial, and Irrigation

Since 2008 Fall River conservation efforts have resulted in almost 13.2 million kWh savings
Fall River Annual Meeting Sustainability
The Cooperative uses the high schools' plates and utensils in providing breakfast and they are washed once used to reuse during the event

Bulk orange juice and water are provided using large coolers to provide members alternatives to single serve drinks

Paper products were used for cups

Members were encouraged to use their own water bottles for drinking

Rather than the packets of silverware, napkin, and salt & pepper wrapped in plastic, we will just have individual options so people can just take what they need.